Join us at our new 'Transforming the immunology landscape' event which features an exciting line-up of world-class and influential speakers to celebrate and discuss the current and future impact of immunology within the wider life sciences sector, alongside exceptional networking opportunities. It features the inaugural BSI Immunology Awards Ceremony to celebrate immunology within the wider life sciences sector. View the programme here.
This unique event offers unrivalled networking opportunities to meet with key players from across the academic, industry and clinical sectors of immunology. This meeting has been specially designed to provide a one-of-a-kind forum for collaboration in which immunologists can productively exchange ideas and make new connections.
Book your place today to be part of our premier immunology networking and celebration event!
Why should you attend?
Be part of our community. Build your network and meet with leaders from across the spectrum of immunology research and application 
Be part of the discussion. Get involved with conversations on the future opportunities for immunology
Be part of the celebration. Join us to champion and recognise the hugely significant positive impact of immunology on human and animal health
Please follow @britsocimm and @bsicongress on Twitter and check the event hashtag #BSIImmunologyAwards for updates.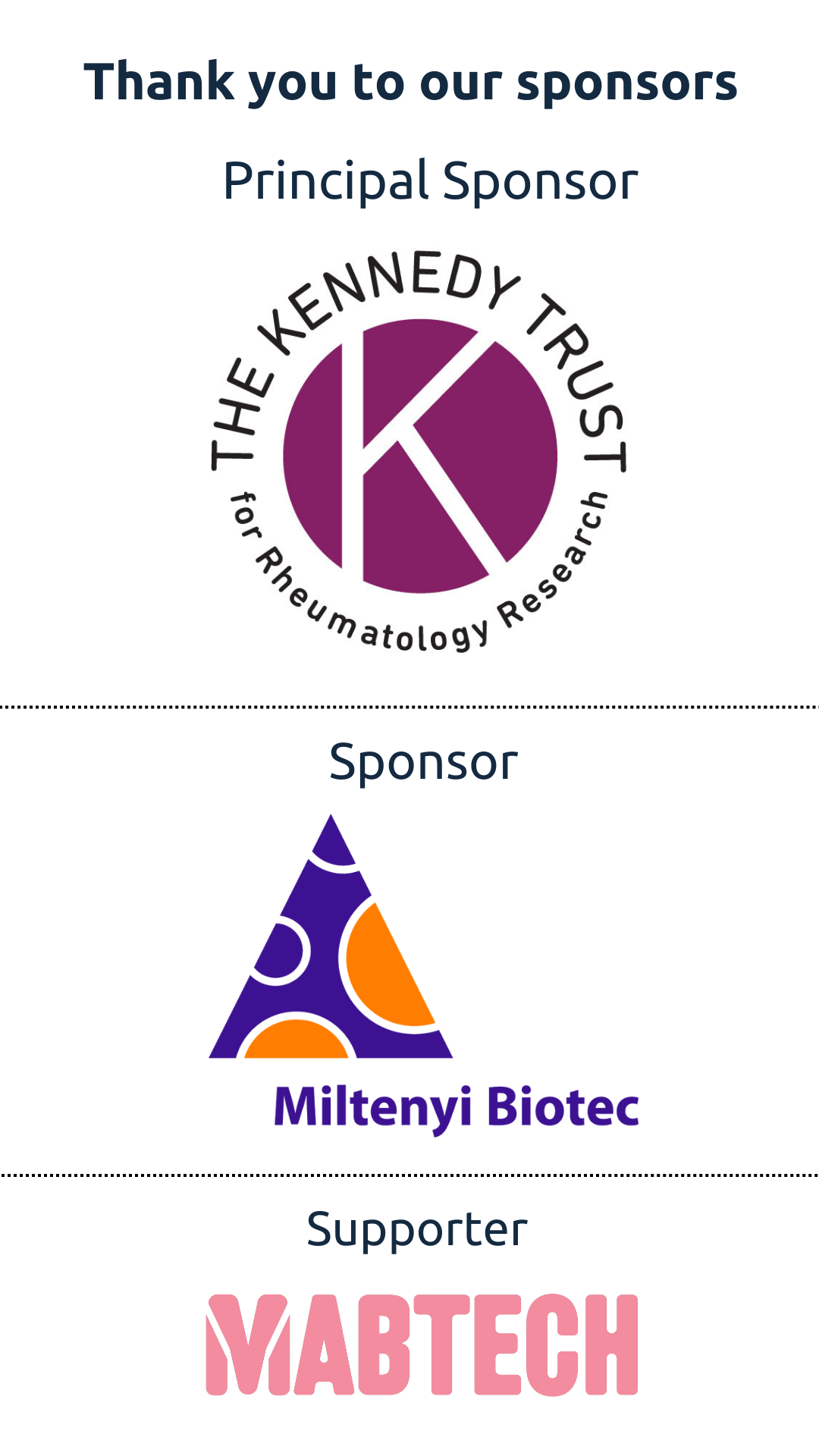 I'm very excited to get to see so many members of our vibrant community sharing ideas, building new collaborations and driving innovation very soon at the BSI's 'Transforming the immunology landscape' event. I can't wait for us to come together to start important conversations about the future of immunology and celebrate inspiring people at the awards ceremony on Thursday 20 April!
– Professor Tracy Hussell, BSI President, Director of the Lydia Becker Institute, University of Manchester
Sponsors
Thank you to our sponsors who are supporting this event. The Kennedy Trust is a Principal Sponsor, Miltenyi Biotec is a Sponsor and Mabtech is a Supporter of 'Transforming the immunology landscape' 
If you are interested in sponsoring this event, please contact our Head of Events & Conferences, Jane Sessenwein, at j.sessenwein@immunology.org.
Programme
13:00 – 14:00 – Registration and refreshments
14:00 – 16:00 – Presentations and panel discussion with Q&A on 'Delivering on opportunities and addressing the challenges in UK life sciences'
Fiona Lethbridge, Senior Press Manager, Science Media Centre - When immunology hits the headlines: communicating responsibly
Professor Tracy Hussell, President of British Society for Immunology and Director of the Lydia Becker Institute of Immunology and Inflammation, University of Manchester - The science of team science
Lynn Laidlaw, Patient and public contributor and patient researcher - Reflections on identity, culture and hierarchies in UK life sciences patient and public involvement: the opportunities and challenges
Professor David Leslie, Professor of Diabetes and Autoimmunity, Queen Mary University of London - Immunotherapy of type 1 diabetes: on mice, men and goalposts
Dr Stephen Oakeshott, Head of Infections and Immunity, Medical Research Council - MRC funding and plans for immunology
16:00 – 16:45 – Networking and refreshments
16:45 – 17:30 – Keynote address: Dr Melanie Lee, Chief Executive Officer, LifeArc - LifeArc and immunology: making life science life changing
17:30 – 20:00 – BSI Immunology Awards networking reception and ceremony
The winners of the inaugural BSI Immunology Awards will be announced, and throughout the evening there will be lots of networking opportunities. Here you can see the finalists for six award categories. 
The BSI Immunology Awards are a celebration of remarkable achievements revolutionising the field of immunology. They recognise exceptional individuals delivering positive outcomes for health in a variety of ways, including at different career stages and sectors.
BSI Early Career Research Excellence Award

BSI Immunology Research Excellence Award

BSI Outstanding Team Award

BSI Diversity and Inclusion Award

BSI Immunology Teaching Excellence Award

BSI Public Engagement Award

BSI Outstanding Leadership Award*

BSI Outstanding Ambassador for Immunology Award*

Outstanding Contribution to the BSI Award*
Please note, there are three categories* for which a shortlist won't be released, including the BSI Outstanding Leadership Award for which we have decided not to release a shortlist or announce any winners this year due to the overall lack of diverse representation in the submissions received – click here to find out more about the selection process.
---
Registration
Registration is now open! Click here to register. 
Full BSI Member: £48
BSI Member – all other membership categories: £30
All non-members: £60
BSI members also benefit from discounts on fees for other BSI events and valuable training courses, as well as free access to our journals, grants, career development activities and much more. You can sign up to become a member online.