The UK's top immunology conference is back – bigger and better than before from Monday 5 to Thursday 8 December. Connect with the immunology community across the UK in the wonderful city of Liverpool and share your Congress updates online using the hashtag #BSI22!
---
Our flagship event attracts over 1,500 attendees from the UK and international immunology community. The extensive programme boasts a diverse selection of immunology topics covering cutting-edge research from leading scientists around the world. We also have a range of networking opportunities to allow you to exchange ideas and build links to aid your next career step.
Join us for an exciting and innovative mix of the highest quality basic and translational immunology research from around the world.
Dates for your diary
7 reasons to submit an abstract
Late-breaking abstract submission for poster presentations closes on Friday 28 October.
Disseminate your latest research ideas and ensure your work is accessible to other researchers in your field
Gain recognition in the immunology community
Debate immunology in a friendly atmosphere and receive valuable feedback
Showcase your innovative education, public engagement or equality, diversity and inclusion work in our dedicated poster category
Start discussions that can lead to future collaborations and further your career
Compete for a £250 poster prize
Keep up to date with cutting-edge research
---
Help with your travel costs
All BSI members are eligible to apply for a BSI Congress bursary to assist with the costs of attending the meeting. The application deadline is Friday 7 October.
---
BSI AGM – have your say!
17:30–18:00, Tuesday 6 December
We would like to encourage all BSI members to join us at our 2022 Annual General Meeting. This is your opportunity to find out more about the work of your Society, what activities we have carried out in the past year and what we are doing to support our members and represent immunology in the UK.
BSI Congress for all
Ensuring that the BSI Congress is as inclusive as possible is extremely important to us.
We introduced a number of initiatives at our last Congress which we are pleased to offer again this year. The BSI Congress Carers' Grant has been established for those who have caring responsibilities at home whether this is looking after children or older members of the family, or those that need carers themselves. This grant scheme is intended to go towards the cost of the attendee's care arrangements during the time they are attending BSI Congress.
The application deadline is Friday 7 October and you can find more information here. We will also have an onsite crèche to provide subsidised childcare for delegates' children. You will need to register for this service in advance to secure a place for your children. These initiatives are in addition to other provisions already in place, such as breastfeeding facilities, prayer and quiet rooms, and access for parents and carers.
---
Programme highlights – Plenary Sessions
Tropical diseases – Immunological investigations and vaccine developments
Innate inborn immunodeficiencies – New insights into innate immune sensory and regulatory molecules and pathways
Beyond blood – Direct sampling from tissues to discover more about the human immune response
Systems immunology – New opportunities to understand the mechanisms of human immunity in health and disease
Immunotherapies come of age – Learnings from two decades of immunotherapy for autoinflammatory diseases
The brainy immune system – Understanding interactions between the neuronal and immune systems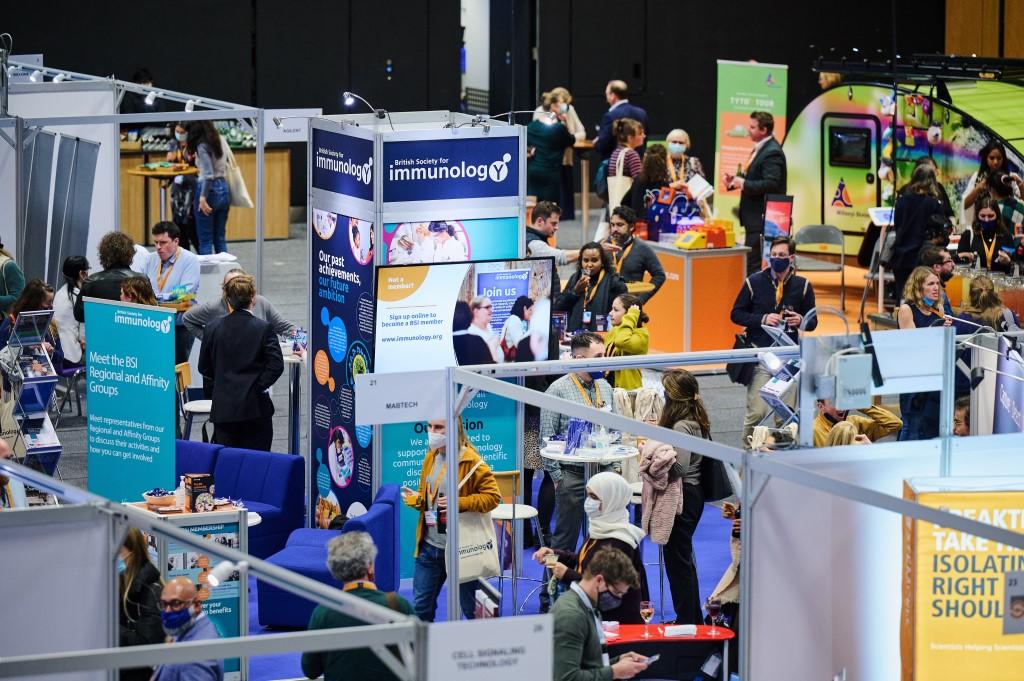 Exhibitors and sponsors
The generous contributions of our corporate sponsors enable us to offer our community another Congress to remember.
We're immensely grateful for their invaluable support and we'd like to encourage all our delegates to explore the exhibition hall and tap into the expertise of our wonderful exhibitors who can answer questions and provide hands-on demonstrations of the latest technologies and products.
Bright Sparks in Immunology
12:30–16:00, Monday 5 December
Our showcase of work from early career researchers in immunology. 
Bright Sparks in Immunology provides PhD students and early career postdocs with experience of presenting their work to a large audience and debating immunology in a friendly atmosphere. This exciting event combines competition with excellent science and networking.
Supporting sessions and industry satellite symposia
There will be many opportunities to learn about the important work being carried out in industry and the research, technologies and products that could help your own work. Keep an eye out on the programme for exciting sessions offering delegates a chance to familiarise themselves with the latest advances in research and technology.
---
Can't make it to Liverpool? Join us online!
To make our Congress more accessible to a wider audience, we're providing an online option for delegates unable to attend in-person. Online-only registration includes online access to all the scientific sessions and an online poster gallery, as well as online networking opportunities with participants, exhibitors and sponsors.