BiteSized Immunology:
Pathogens & Disease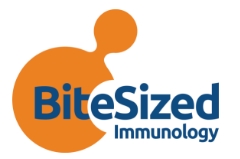 Colitis ulcerosa e infección por Trichuris
Ekta Bhardwaj, Universidad de Manchester, Reino Unido Traducción: Laura Pruneda, Oviedo, ES (SEI)
Inflammatory bowel disease (IBD) comprises a group of idiopathic chronic relapsing inflammatory conditions of the gastrointestinal tract. IBD commonly involves two conditions, ulcerative colitis and Crohn's disease. Ulcerative colitis mainly affects the colon, whereas Crohn's disease can involve any part of the intestine. IBD may present as abdominal pain, diarrhoea, rectal bleeding, strictures and fibrosis. The precise aetiology for both the diseases is unknown. Inflammatory bowel disease usually manifests in the second or third decades of life. However, there is another peak in incidence in the sixties.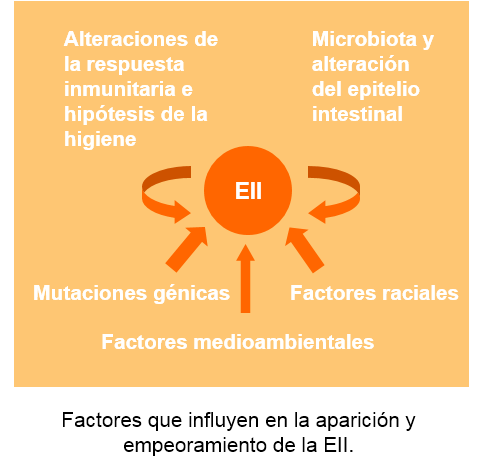 La EII es multifactorial
Localización geográfica: frecuente en América del Norte, Europa del Oeste y Europa del Norte, menos frecuente en Sudáfrica, Australia, Europa del Sur y Europa Central y escasa en Asia y en África.
Raza: frecuente en la población judía.
Mutaciones génicas: TLR4, MDR1, NOD1 (CARD4), DLG5 son genes con mutaciones asociadas a la EII.
Las bacterias comensales de la luz intestinal y la alteración de la barrera epitelial del intestino también están relacionadas con la aparición y el empeoramiento de la colitis.
Alteraciones de la respuesta inmunitaria.
Figura 1. Colitis (arriba) e intestino grueso tras una infección por Trichuris.

| | |
| --- | --- |
|   |   |
Según la «hipótesis de la higiene», la EII se produce con más frecuencia en sociedades en las que la infestación por helmintos es baja. Los ensayos clínicos ponen de manifiesto que Trichuris suis puede reducir y mejorar la inflamación del colon. El mecanismo de acción es desconocido aunque es posible que T. suis active los linfocitos T reguladores que suprimen la inadecuada respuesta inmunitaria del hospedador.
Revisión: Jesús Gil, Würzburg, DE (SEI)
La versión en español ha sido coordinada por Jesús Gil-Pulido, responsable de redes sociales de la Sociedad Española de Inmunología, y ha sido posible gracias a miembros de la Sociedad Española de Inmunología (https://www.inmunologia.org/index.php).
© Los derechos de este documento corresponden a su autor.