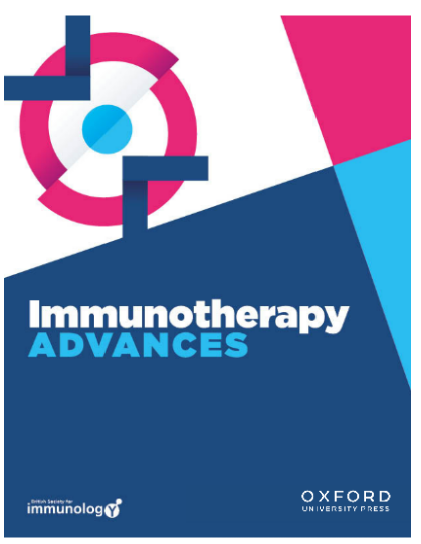 We are delighted to announce that our official journal Immunotherapy Advances is now indexed in PubMed Central. You can now access the dedicated page on PubMed Central.
Run by the National Institutes of Health's National Library of Medicine, PubMed is one of the largest and most widely used repositories for biomedical and life sciences articles. By being included in PubMed Central, Immunotherapy Advances' content can now reach an even wider audience and is fully searchable and accessible to all. This includes all articles published since the journal's launch.
This is a crucial milestone for our first Open Access journal, which was launched in 2020 in partnership with Oxford University Press, and is a significant step in our mission to disseminate immunology research for the good of human and animal health. Acceptance into PubMed Central is the result of a major effort from Immunotherapy Advances' passionate editorial team, especially Founding Editor-in-Chief Professor Tim Elliott, and we would like to take this opportunity to thank BSI members for their continued support of the journal, particularly those who have contributed as authors, reviewers and advocates.
Our vision is for Immunotherapy Advances to be a globally recognised title that both serves the immunotherapy community and exposes new developments in the field to a wide and diverse readership. Key in realising this vision will be to achieve indexing in all widely used services, including Scopus and the Web of Science.
We would like to use this opportunity to encourage our members and the wider immunology community to continue supporting our first Open Access journal by submitting your latest research. Thank you to all of those who have already submitted their work – your contributions are essential. You can also contribute to the growth of the journal by reading, sharing and citing our articles where appropriate, to help our content reach an even wider audience.
Immunotherapy Advances publishes scientifically rigorous research relating to manipulations of the immune system for the benefit of human and animal health in all disease areas. We offer a quick turnaround from our supportive editorial team and, when accepted, your article would appear in PMC very soon after entering production!
We also offer all BSI members a 20% discount on publication fees for Immunotherapy Advances. You may also be able to publish your paper using funds available through Read and Publish deals with organisations from our publisher, Oxford University Press.
Income generated from our journals provides major financial support for the Society's activities – including our grants, BSI Regional and Affinity Group meetings, BSI Congress and more. Support the BSI's vital activities by contributing your work to Immunotherapy Advances. 
---
Find out more
*The email alerting service is from our publisher, Oxford University Press.