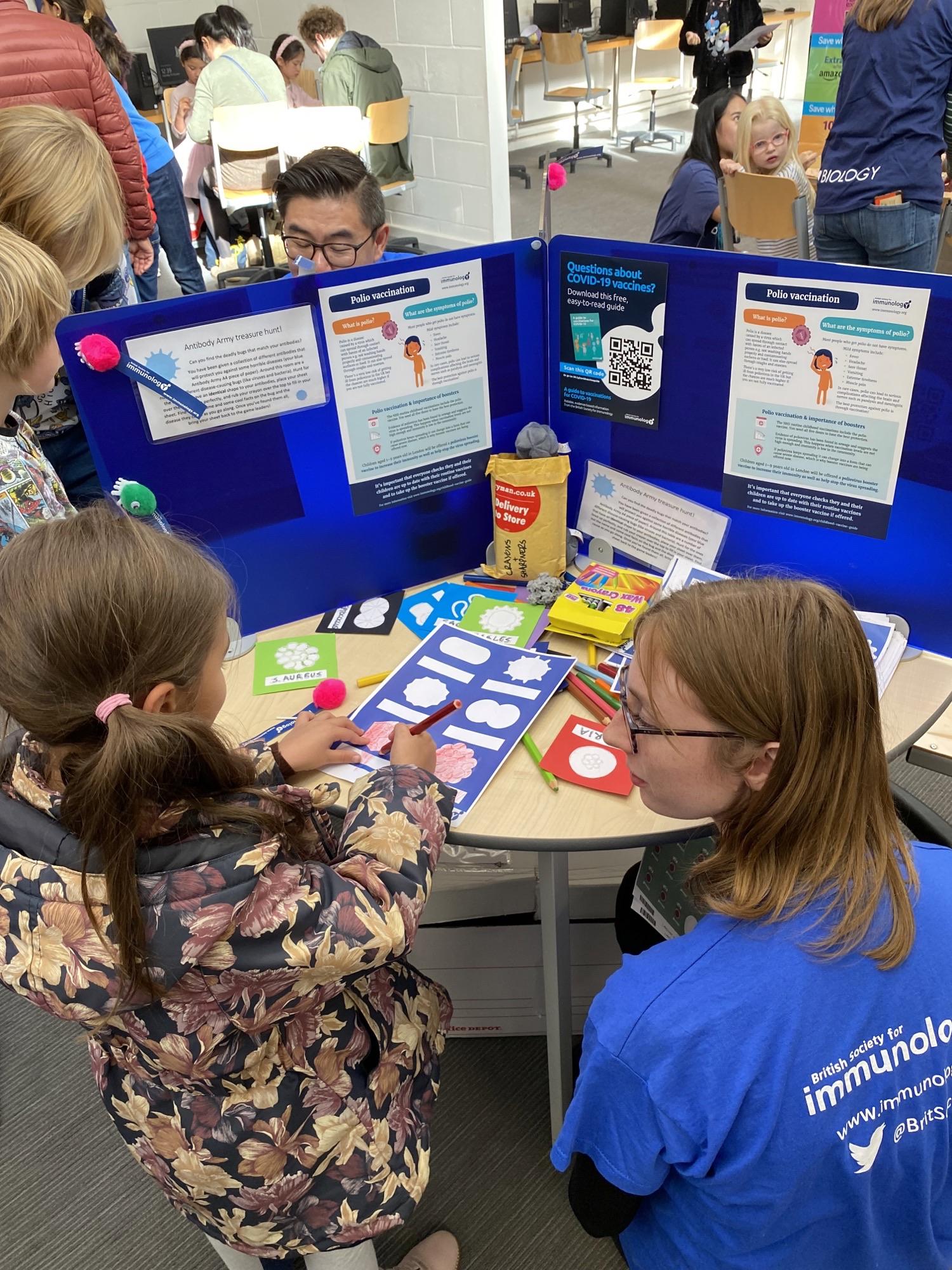 In August 2022, Holly Acford-Palmer joined the BSI team as an intern to work on important public engagement activities over three months, as part of a placement during her PhD. Here, Holly shares some of the highlights and learnings during her time.
---
In autumn 2021 I entered the third year of my PhD, moving past the halfway point in my funding and knowing I had to find my Professional Internships for PhD Students (PIPS) placement. PIPS are three-month placements conducted by BBSRC-funded PhD students. Other UKRI-funded doctoral training programmes have their own versions, but all have the three-month internship integrated into their funding timelines. The only rule is that it must be unrelated to your PhD project.
Expanding career pathways
My project is on the genomics of neglected Anopheles mosquitoes, specifically vectors of the malaria species Plasmodium vivax. My background is predominantly microbiology, with a side of immunology. I previously had the chance to get involved with public engagement around the gut microbiome while working as a project scientist, which kick-started my interest in public engagement and science communication, which is how I ended up at the BSI.
I knew who the BSI were but hadn't had any interactions with them. Having seen the internship scheme on their website, it sounded like a great opportunity to do some more public engagement and get experience in a charity/learned society. So, I applied, and here I am!
My main role, initially, was to update vaccine engagement resources; this covered existing COVID-19 vaccine resources such as the COVID-19 vaccination in pregnancy infographic and the guide to COVID-19 vaccinations. This also led into the creation of new resources, such as infographics around polio vaccination and the autumn 2022 COVID-19 booster programme. Alongside these, I've helped to finish a guide to older adults' vaccines due to be published soon after finishing my internship in November.
Engagement is key
In recent years, childhood vaccination rates in England have been falling, and the disruption from COVID-19 and increasing spread of vaccine misinformation have had a negative effect on these. This shows the importance, more than ever, of engaging with the public to have open conversations about how vaccines work and why they are so important! As we've seen recently with polio virus detected in sewage water in some London boroughs, diseases we thought confined to history can come back to haunt us if we don't continue to actively encourage vaccine uptake. All of this has highlighted the importance of my work over the past three months and made this experience feel worthwhile.
Outside of the vaccine resources, I had the opportunity to help organise a public engagement event at Cambridge Big Biology Day, which gave me the chance to build some project management skills. We built origami viruses and antibodies, used magnets to demonstrate antibody/ antigen specificity, and had a pathogen treasure hunt to show the variety of micro-organisms that can cause disease. Breaking complex scientific concepts in a way that everyone can understand is the basis of public engagement, and the reason I applied for the internship scheme at the BSI. It was great to experience it with such an enthusiastic audience and excellent volunteers!
Breaking complex scientific concepts in a way that everyone can understand is the basis of public engagement, and the reason I applied for the internship scheme at the BSI.
Networking and tweeting!
Throughout my time, I've also seen the different aspects of public engagement such as enabling other people to communicate science by assisting the BSI Communication and Engagement Grant process. I attended the National Core Studies Immunity Patient and Public Involvement panels where representatives of different patient groups get to hear about the latest research around COVID-19 and feed back directly to researchers about the wider implications of their research.
I also got the chance to attend BSI Forum meeting, where BSI membership representatives discuss topics important to people working immunology around the UK. Plus, I learnt how to write social media posts – keeping to 280 characters is harder than it seems!
A big BSI welcome
One of the best things about the BSI is the people! I've had the chance to interact with members, Trustees and whole BSI team. In particular, Erika, the BSI Public Engagement Manager who has been very supportive and helpful throughout my time here. But the rest of the team have also been incredibly welcoming, helpful, and the breadth of the work they do is amazing. In three months, a new journal has been launched, alongside a new membership system and website, while BSI Congress 2022 is fast approaching, and among the countless other things.
To see all the BSI does has been a great experience. To see the inner workings of a learned society, and yet with a relatively small team running everything, it meant getting an insight into how these different areas function and interact was possible. My previous career experience has been heavily laboratory focused, and this internship has showed me, I can still be involved in science without being the one doing it! I was aware of the wide variety of roles I could go into post-PhD, but this internship has given me an insight as to what those jobs could entail day to day, which has been an invaluable experience. And one I would recommend to anyone!
Holly Acford-Palmer, PhD Student, London School of Hygiene and Tropical Medicine/University College London
---
BSI internship scheme
We are looking for graduates with good organisational skills who are willing to undertake a range of diverse tasks. This internship scheme is open to candidates who are BBSRC-funded PhD students looking to undertake a 'Professional Internship for PhD students (PIPS)' as part of their Doctoral Training Programme within the life sciences. Find out more: www.immunology.org/bsi-internship-scheme.