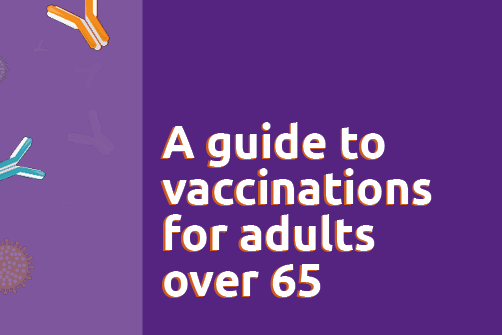 The British Society for Immunology is proud to publish a new guide to vaccinations for adults over 65. Following the success of our previously published guides to childhood vaccinations and guide to COVID-19 vaccinations, our new guide aims to inform adults aged 65 and over about the different vaccines they are eligible for in the UK and answer common questions. This guide has been developed in partnership with the CARINA Network and is sponsored by the UK SPINE Knowledge Exchange Network.
Vaccination at any age is important, but as we get older our immune system doesn't work as effectively as a younger person. Ensuring you are up to date on your vaccinations gives your body the boost it needs to prevent you getting seriously ill from vaccine preventable diseases in older age.
This guide covers information about the different vaccinations given to people 65 and over in the UK, how these vaccines work to protect from serious disease, and answers common questions the public have about vaccines. At the BSI we believe that by providing people with reliable, evidence-based information about vaccines, they will be able to make informed choices about vaccinations that protect them from preventable disease.
We would like to thank all our members, especially Dr Emma Chambers, and the healthcare professionals who helped with creating this guide.
Discover our other guides to vaccinations for more information on childhood vaccines and vaccines for COVID-19.