The BSI Immunology Teaching Excellence Award recognises an exceptional immunology teacher working in a higher education institute in the UK.
Through this award, we hope to raise the profile and recognition that immunology teaching receives in UK higher research institutes.
In 2023, this award went to Dr Sophie Rutschmann at Imperial College London and Dr Tom Wilkinson at Swansea University.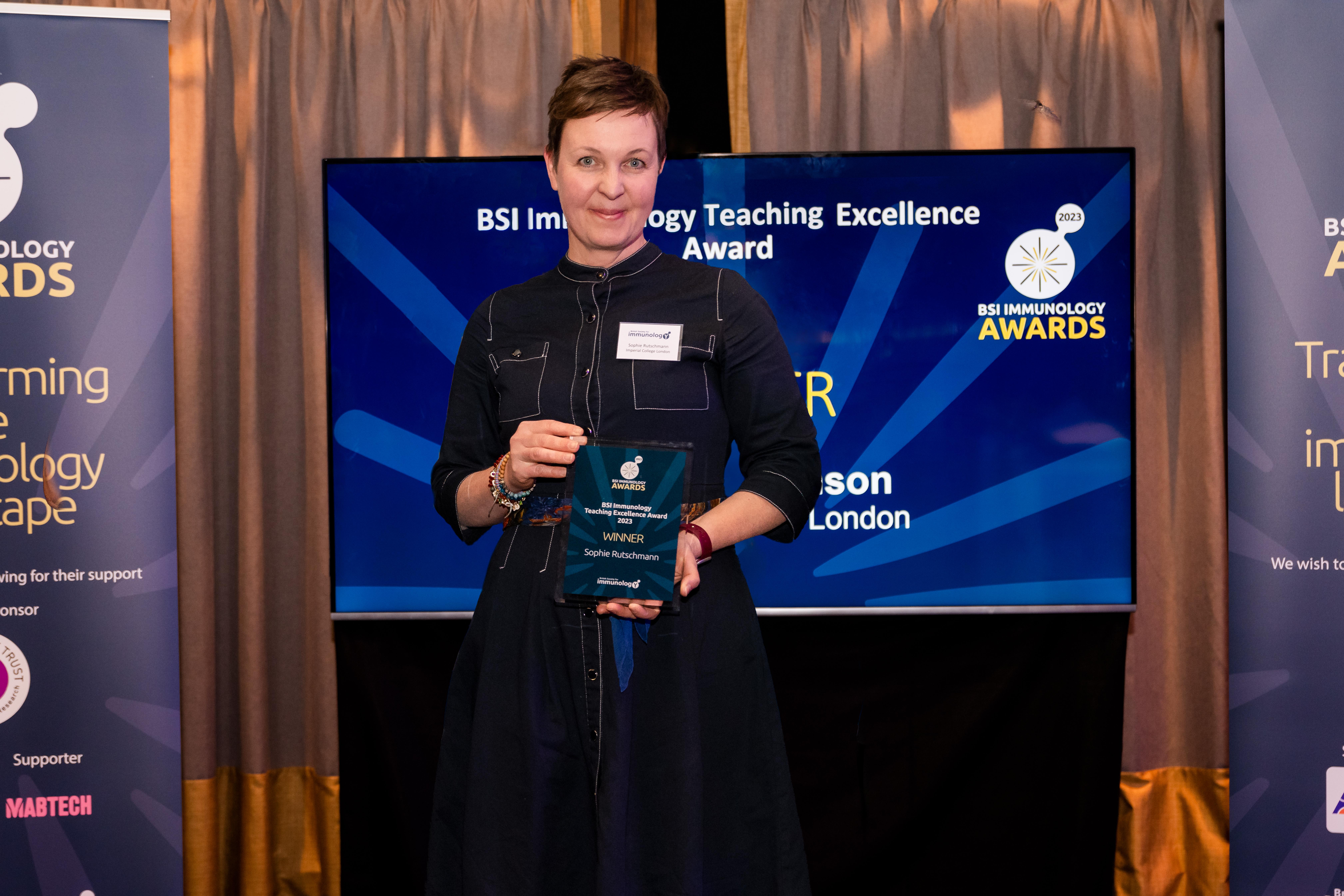 ---
Dr Sophie Rutschmann has made a substantial impact on the way teaching is delivered at Imperial College London. Among her innovations is a module of learning focused around the BSI Congress event, which encourages students to actively seek out the leading edge of immunology research. As Head of Digital Education for the Faculty of Medicine at Imperial, she developed a MOOC (Massive Open Online Course) in immunology, which has been hugely successful and is expected to have a significant global reach.
You can read more about Dr Rutschmann and what this award means to her in this interview.
Professor Tom Wilkinson has been instrumental in establishing immunology teaching across all years and programmes taught in the School of Medicine at Swansea University. He played a lead role in the development of the Wales Immunology Teaching Toolkit, a suite of resources designed to ensure students could learn the key immunology techniques and experimental procedures even when they were unable to be in the lab due to COVID-19. One of these resources, a virtual flow cytometer, was so successful that it became a permanent feature of the course and has been widely adopted across the UK and Ireland at other institutions. 
You can read more about Professor Wilkinson and what this award means to him in this interview.
---
The BSI is committed to ensuring diversity amongst its award recipients. We encourage eligible candidates from all sectors of the Society's membership to apply, especially those from underrepresented groups.
---
Eligibility
Must be a current BSI member who is actively involved in teaching immunology
Open to individuals working in all fields and sectors within or related to immunology
Open to individuals only, based in the UK
Individuals who have been nominated in past years are welcome to put forward a new nomination. Previous winners may not be nominated again.
---
How to nominate
Nominations are now closed for 2023 and will reopen next year.
To read more about the BSI Immunology Awards and this year's winners, click here.
---
How are the awards judged?
Once the nomination deadline has passed, nominations that fulfil the award's eligibility criteria will be judged by a panel of experts. They will be assessing a number of factors including:
Demonstrates approaches to learning that engage, motivate and inspire students to learn
Demonstrates significant impact on quality of student experience
Demonstrates development and enhancement of curricula and resources that reflect a command of the field
The recommendation from the judging panel will be taken forward to the BSI Nominations Committee for ratification.
---
Further information
If you are nominating someone other than yourself, the BSI will contact the nominee within 30 days of the nomination being received to obtain consent from them to hold their personal information. If we do not receive consent from the nominee within this 30-day period, we will be unable to hold their personal information and we will not be able to process the nomination further.
If you are self-nominating, by submitting an application you give us consent to hold the personal information provided in the form below in relation to processing your nomination for the Immunology Teaching Excellence Award.
We take your data security extremely seriously. We keep it safe, treat it with respect and we will never sell or share your data to any third parties for marketing purposes. To find out more information you can read our Privacy Policy and Data Protection Policy on our website. If you have any queries, please contact dp@immunology.org. 
If you are interested in sponsoring the BSI Immunology Awards Ceremony, please contact our Head of Events, Jane Sessenwein at j.sessenwein@immunology.org, for more details.