On this page, you will find an infographic which explains how scientists were able to develop vaccines for COVID-19 at a much faster pace during this pandemic. Scroll down to discover more, click the download link to print the graphic or share on social media tagging @britsocimm to help strengthen public understanding.
Vaccine development is normally a long and expensive process because of delays caused by applying for funding, ethical approval, recruiting volunteers, negotiating with manufacturers and scaling up production. In the emergency state of the COVID-19 pandemic the scientists, doctors, ethics approval boards, manufacturers and regulatory agencies have all come together to work harder and faster.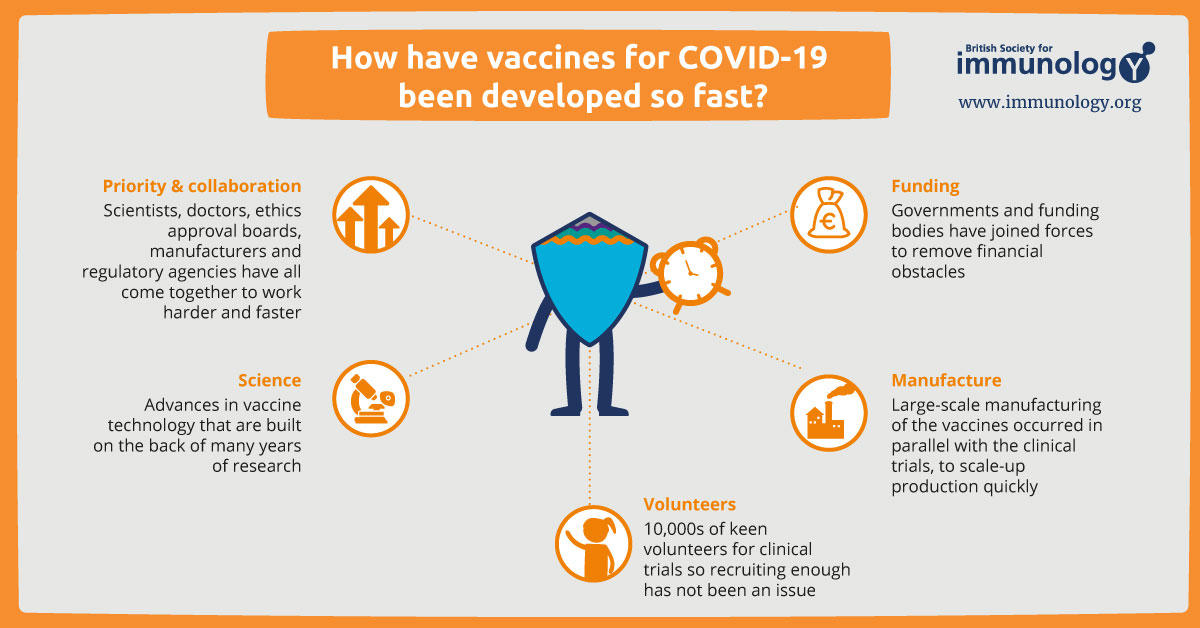 Has the speed of developing vaccines for COVID-19 compromised safety?
No. All the standard safety procedures have been followed during clinical trials on vaccines for COVID-19 and the rigorous regulatory processes have been fully completed as for any other vaccine or medicine.
Before any vaccine can be given to the population it must go through rigorous testing. Like all medicines, vaccines undergo extensive clinical trials, where they are administered and monitored in groups of volunteers. In the UK, the results of the trials are then assessed by the Medicines and Healthcare products Regulatory Agency (MHRA).
No medicine can ever be completely risk-free or 100% effective. However, strong licencing processes and safety tests ensure that the health benefits of medicines being given through the NHS greatly outweigh any risks.
---
Other common questions and concerns about COVID-19 vaccines, such as long-term side effects, are answered in our free, easy-to-read guide. A guide to vaccinations for COVID-19
If you are interested in translating these resources into another language, please email bsi@immunology.org. Please do not translate these resources without our permission.